Assimilation of marine-derived nutrients from anadromous rainbow smelt in an eastern North American riverine food web: evidence from stable isotope and fatty acid analysis
Nonsalmonid versus Salmonid Passage at Nature‐Like and Pool‐and‐Weir Fishways in Atlantic Canada, with Special Attention to Rainbow Smelt
Fishway passage success for migratory rainbow smelt is not dictated by behavioural type
Stable oxygen isotope analysis confirms natural recruitment of Lake Michigan-origin lake trout to the adult life stage
Locomotor activity patterns of muskellunge assessed using tri-axial acceleration sensing acoustic transmitters
Evaluation of the physiology, behaviour, and survival of adult muskellunge captured and released by specialized anglers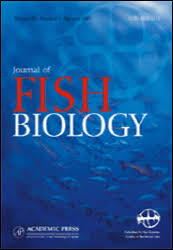 The effects of temperature change on the hatching success and larval survival of largemouth bass and smallmouth bass
Fish movement and migration studies in the Laurentian Great Lakes: Research trends and knowledge gaps
Injury and immediate mortality associated with recreational troll capture of bull trout in a reservoir in the Kootenay-Rocky Mountain region of British Columbia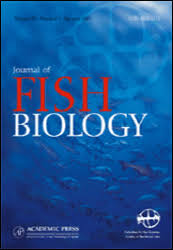 Nest-site fidelity in parental male bluegill: spatial patterns and the influence of prior mating success
Assimilation of marine-derived nutrients from anadromous rainbow smelt in an eastern North American riverine food web: evidence from stable isotope and fatty acid analysis
In press at Freshwater ScienceAnadromous fishes are important vectors of nutrient transport from the sea to freshwater. Here, we illustrate an example of this with rainbow smelt in a coastal Prince Edward Island river. Our results show multiple trophic levels within a stream food web receive marine-derived nutrients, including important fatty acids such as omega-3s. We posit the most important vector of nutrient transport is via rainbow smelt eggs.
Nonsalmonid versus Salmonid Passage at Nature‐Like and Pool‐and‐Weir Fishways in Atlantic Canada, with Special Attention to Rainbow Smelt
Transactions of the American Fisheries Society"If you can pass a smelt you can pass anything" is a saying used by some fisheries biologists in Atlantic Canada to address concerns related to fish passage in the region. The thinking being, if you can pass a really "poorly" swimming fish like a rainbow smelt around dams, you should be able to pass anything. Here, we assessed rainbow smelt passage at a dual fishway complex, comparing passage between two different fishway designs at the same dam. We also assessed modifications to improve attraction. Ultimately, rainbow smelt were shown to pass a nature-like fishway, but not a pool-and-weir structure designed specifically to pass brook trout. Our modifications also did not work, stressing the importance of correctly locating fishway entrances at the construction phase of a project.Also the cover image for this issue happens to be one of my photos!
Fishway passage success for migratory rainbow smelt is not dictated by behavioural type
River Research and ApplicationsFishes exhibit discrete behavioural types (e.g., bold vs. shy) that have been linked to a number of fitness related activities. Here, we assess behavioural type in rainbow smelt within the context of passage at a nature-like fishway. Our aim was to determine the influence of individual behavioural type on successful passage. Our findings indicated no such effect, which is actually a good thing given that fishways ideally should allow passage of all phenotypes!
Stable oxygen isotope analysis confirms natural recruitment of Lake Michigan-origin lake trout to the adult life stage
Fisheries ResearchThis is perhaps the paper I am most proud of. Here we show the first conclusive evidence of recruitment to the adult life stage of Lake Michigan lake trout in over 50 years of population recovery efforts. We used stable isotope analysis to show that isotopic signatures indicating natal origins of suspected wild adults do not match signatures of hatchery-reared fish, and also eliminated Lake Huron migrants as the source of this putative wild group of fish.
Locomotor activity patterns of muskellunge assessed using tri-axial acceleration sensing acoustic transmitters
Environmental Biology of FishesThe advent of high resolution acoustic transmitter technology allows us a detailed view of a tagged fish's life. Here, we applied acceleration-sensing acoustic transmitters to determine the summer behaviour of muskellunge in an eastern Canadian river system. We show that, not surprisingly, muskellunge are rather sedentary, but distinct daily activity (as evidenced by acceleration measurements) patterns emerge. As a muskellunge angler myself, I can confirm these activity patterns are reflected in my own catch records!
Evaluation of the physiology, behaviour, and survival of adult muskellunge captured and released by specialized anglers
Fisheries ResearchFundamental to catch-and-release angling is the notion that what you release will survive. Specialized muskellunge anglers release >99% of the fish they catch, but no formal evaluation of catch-and-release angling on this species had ever been conducted. Here we compared "gentle" (without air exposure) and "normal" (with air exposure, likely longer than most anglers apply) handling procedures to assess the sub-lethal and lethal effects of catch-and-release angling. Our results showed 100% survival of angled fish and negligible stress induced by the angling process. The highest risk to the fish's welfare comes during higher water temperatures.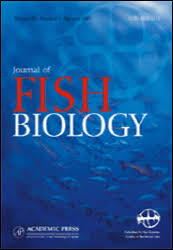 The effects of temperature change on the hatching success and larval survival of largemouth bass and smallmouth bass
Journal of Fish BiologyLargemouth and smallmouth bass often spawn in relatively shallow water where their eggs and fry may be subjected to abrupt changes in water temperature depending on prevailing weather patterns. Here we experimentally manipulated water temperatures in developing eggs and fry of these two recreationally important centrarchids. Our results indicated that eggs and fry were relatively robust to stochastic temperature changes, with greatest mortality at the highest water temperatures.
Fish movement and migration studies in the Laurentian Great Lakes: Research trends and knowledge gaps
Journal of Great Lakes ResearchThis review paper summarizes trends in how fish movement is studied in the Great Lakes, what questions are asked, and what species are commonly (or rarely studied). Information was current up to 2011.
Injury and immediate mortality associated with recreational troll capture of bull trout in a reservoir in the Kootenay-Rocky Mountain region of British Columbia
Fisheries ResearchThis short communication documents injuries and mortality associated with catching-and-releasing adult bull trout via trolling. The majority of fish were captured in the mouth and mortality was low, but bleeding and foul-hooking (i.e., hooking a fish in something other than its mouth) was present in enough fish to be of concern.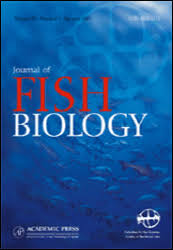 Nest-site fidelity in parental male bluegill: spatial patterns and the influence of prior mating success
Journal of Fish BiologyFidelity to breeding sites can have important fitness related consequences for animals, either increasing it or decreasing it depending on different scenarios. Bluegill sunfish are a nest-building fish that spawns repeatedly over its lifetime. We investigated whether the same males nested in the same locations year after year and whether reducing their brood numbers would cause them to shift locations the following year. We found that most males re-nested very close to the previous year's location, but, unexpectedly, reducing their broods did not cause them to shift location the following year.